My Autobiography:
I am married with 2 children and 3 grandchildren. I love children, I took care of my 2 grandchildren (4 and 7 since they were born), now they live in another state. I love playing the piano and painting religious arts. I am a parishioner of St. Lawrence Martyr Church in Hanover, Md. I serve as a Eucharistic Minister and I'm a Trinitarian Member.
I do Pastoral Care (administering communion) at Lorien Nursing Home (and occasionally play the piano).
I am the Author of 4 Books:
Christ, My Passion
A Time With God
Prayers to Jesus
Lent Prayers and Meditation
Previous CEO/Owner of AMR Mortgage
Asst. VP of Mortgage Capital Investors
Sr. Loan Officer, Maryland National Mortgage Corporation
Sr. Loan Officer, Crestar Mortgage Corporation
Realtor, Shannon & Luchs
Worked for The World Bank
and Philippine Air Lines, Inc.
Being retired, I have more time now to write. Currently, I am in the middle of writing my 5th book.
===
Lent Prayers and Meditations
A day-by-day devotional guide
This book is a helpful guide to lead the reader to connect with God through devotional prayers and meditations. The theological reflections takes ones soul to an individual journey of repentance, forgiveness and renewal but most of all love from God that transforms one's life.
Lent Prayers and Meditations offers a complete 46-day guidance from Ash Wednesday, through the Holy Week until Easter Sunday. Each day is filled with Bible verses, prayers and meditations, a spiritual exercise that takes only a minute a day. Let this book serve your heart to be inspired, your soul to be uplifted and your spirit to be renewed as you embrace a new life or a deeper relationship with our Lord, Jesus Christ.
Prayers to Jesus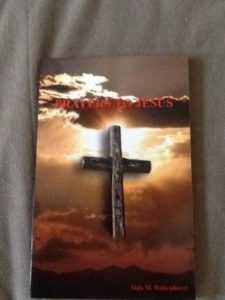 Jesus left us something very important, He left us the power to reach God through our prayers.  Open the pages of this book and feel His powerful presence.  Be touched by Him and experience the love, peace and joy that comes from Him.  He had commanded us to believe with all our hearts, forgiving our enemies, and believing that our Father in heaven will give us anything that we ask in his name, when we ask a prayer for His honor and glory.  Let us meet God through our prayers.
 A Time for God
Walk with God.  Experience His presence in the solitude of your own home.  Speak to Him from your heart.  Commune with Him day and night and make your life a living prayer, then aim to reach towards your spiritual perfection.
This book is designed for any individual who would like to take some time out to fellowship with God.  A one-on-one communion with God, it is centered on love.  This is a guide that could be used anywhere from one to four weeks in the convenience of your own time (after the busyness of your day) and place (in your own home).  It could also be used on group retreats for today's men and women who want to take a walk with God.
Christ, My Passion
This book tells about Jesus, His Words and proclaims that Jesus is alive and in our world by the testimony of spiritual experiences.  In addition, it also contains short poetries.  Finally, it talks about our purpose and prepares the reader for the future.  Allow this book to lead you to our Lord Jesus Christ who is among us, who is our eternal friend, Master, Teacher, Lord and Savior.